Marble Fountains for Hedges and Shrub Gardens
There is a fountain design for every occasion. Whether you're indoors or outdoors, big or small, simple or opulent, there are a hundred different designs to choose from in this most celebrated type of stone sculpture.
Typically built from marble or granite, stone fountains are built to last, so it's important that you get the one that's perfect for your needs. In particular, stone fountains can do wonders when installed in the midst of gardens or hedges.
They break up the mass of green, provide variations in texture, and keep with the naturalistic theme of a garden with their flowing water features. So what specific qualities should a fountain have if they are to find its home among shrubbery and hedges?
Egyptian Beige Marble Spiral Fountain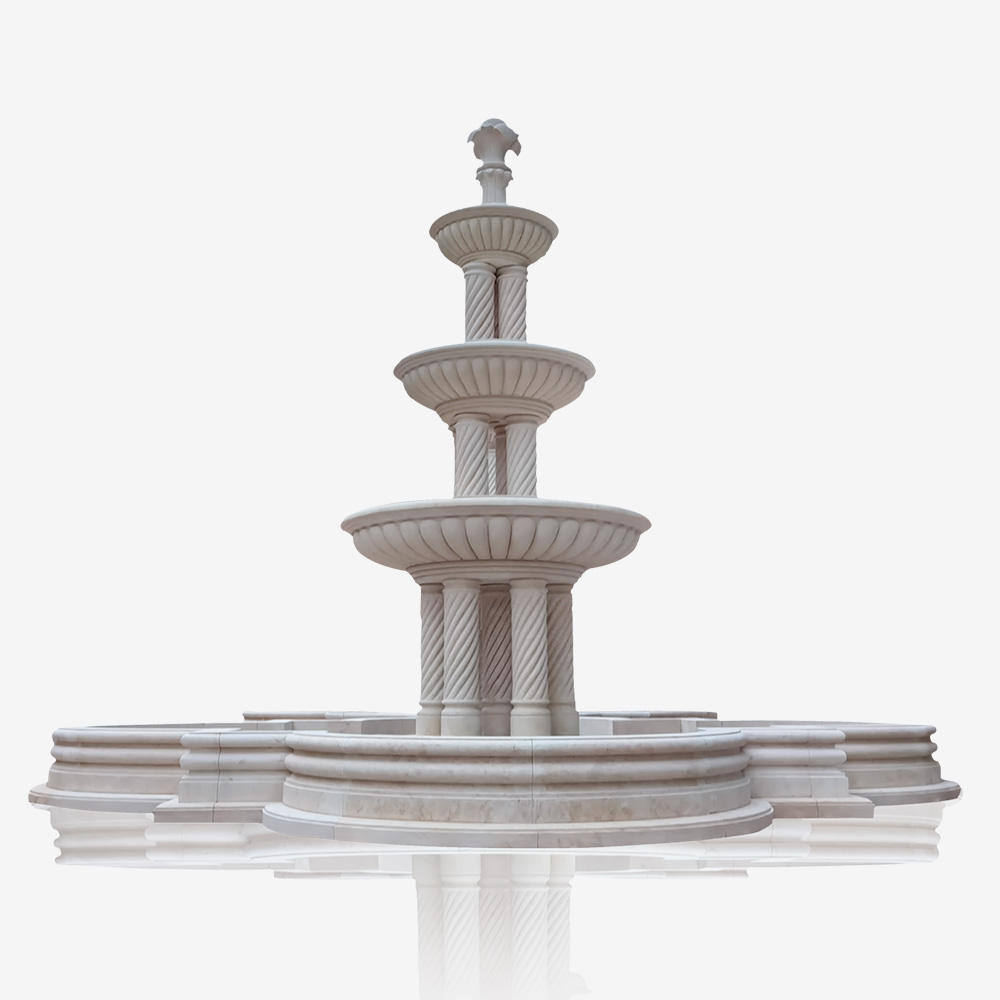 First and foremost, a stone fountain in a hedge maze or shrub garden ought to be tall! There are obvious reasons for this, such as visibility, but it can also be a bit more nuanced than merely being seen above the foliage.
A murmuring water fountain peering over the top of a hedge wall or bursting out from the depths of a shrubbery garden is a fantastic and striking image, and the sight of water being joyously flung into the air is a magical image that all outdoor stone fountains should strive for
Custom Pool Fountain Surround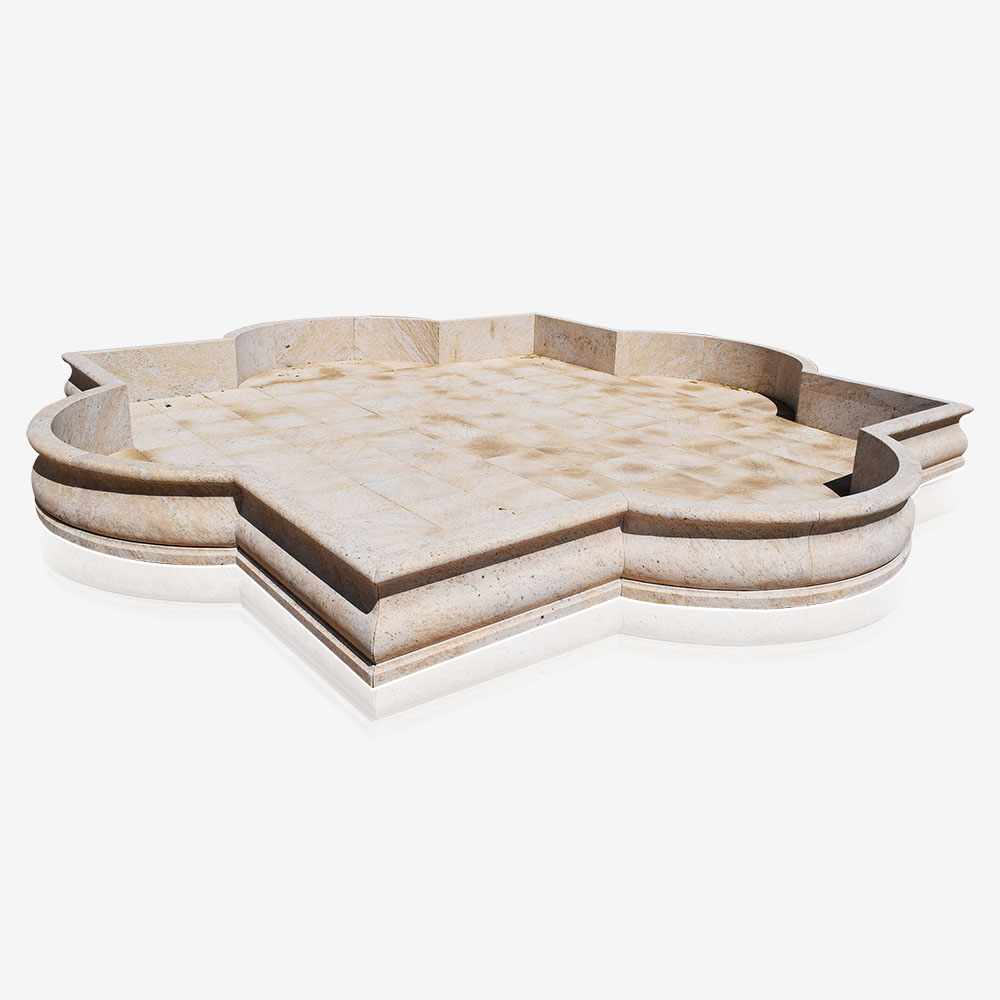 However, there are plenty of circumstances where a shorter, more lowkey fountain might actually pack a greater punch. If your property has a large variety of hedges, for example, or even a hedge maze, then low-set fountains that are initially concealed by these hedges can provide an element of discovery and surprise for guests exploring the garden.
You don't always want to show your entire hand right from the starting gun. Shorter fountains are also useful in landscaping design situations where you don't want to focus too much attention on any one spot, or when you want the focus to be someplace other than the stone fountain. (It's a rare situation, but it happens!)
Of course, this advice mainly applies to rather large or elaborate properties. The size of the fountain isn't the only factor you must consider when making your selection: you have to hold it against the size of its location as well.
A large fountain can dominate a small space, and a small fountain can get lost in a larger plot of land. When making your selection, try to imagine yourself in yes, and walk yourself through their experience, judging the extent to which you want your stone fountain to lead the tour. You may find yourself fine-tuning your choices.
White Marble 3 Fountains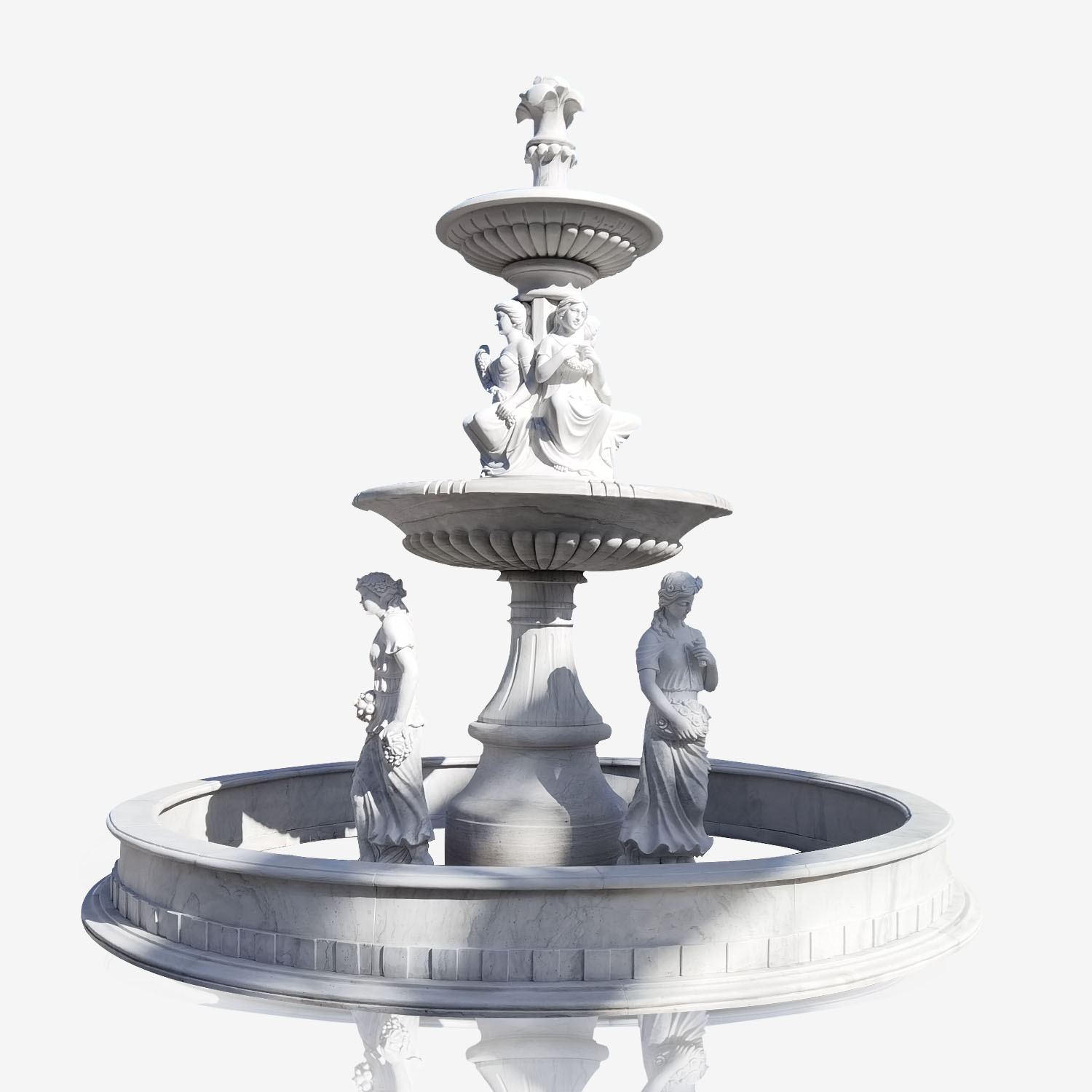 Another thing to remember when selecting your fountain is the carved images it features: will your piece have any human or animal sculptures included in its design?
Fountains with character sculptures can impact guests more than other fountains, especially when installed among greenery and shrubbery.
The presence of dramatic, anthropomorphized figures in your garden brings the place to life and boasts some of the most technically challenging and artistically rewarding stone craftsmanship available on the market today. These classical sculptures show your commitment and love of the art of sculpture.
Consider also the way these fountain sculptures interact with the foliage around them. Infuse your estate with a degree of mystery and discovery as you position them to peer around edges in your hedgerow, or loom ambiguously behind some shrubbery, not to be fully revealed until a guest has already had their curiosity aroused.
This method of concealment and reveal can make your stone sculptures feel more realistic or alive, wrapping up the artistic stylization of the artist with something that feels authentically human when the time finally comes to see this stone fountains up close.
 There are quite a few splendid options to choose from when deciding which kind of natural stone to use for your outdoor garden fountain, but in this case, the king's crown must go to granite fountains.
Granite fountain stone's recognizable porous patterns and grainy texture are a beautiful companion to the soft, vivid greens of garden flora, providing both a comparison and a contrast to the hedges and shrubs it will stand alongside.
In addition, granite fountains are perhaps even more durable than marble, giving them a lifetime of natural resistance to the elements when placed outside, where they are the most spectacular to behold.
The best resource for all of these decisions will always be your own mind: your judgment, your opinion, and your personal situation. It's a momentous decision, both artistically and financially, so trust your gut if you have an idea that goes against the points brought up in this blog or in other resources that you've looked into.
The best thing about art is that it's subjective, so if you have your eye on a fountain that's not granite, go for it! Just make sure to do your research first, lest you run into issues that are practical and not aesthetic. And most of all… have fun!
For more content on Gardens and Fountains check out the following;
12 Best Wall Water Features For Making a Grand Statement in Your Garden
Gorgeous Stone Pedestals to Elevate Your Garden Beauty
Stunning Large Elephant Statues to Enhance Your Garden Layout
Best Stone Finials for Sale to Decorate Your Garden
Wonderful Stone Garden Décor Ideas to Spruce up Your Outdoors
Stunning Marble lion Statues for Your Garden You Can Invest in
Best Life-Size Horse Statues for Your Garden Landscape